There is no doubt fishing at Athapapuskow Lake is fantastic!!
Thus far, Athapapuskow lake has held 3 World Records:
Lake Trout weighing in at 62lb.8oz (held for over 40 years)
6 lb. line class record with a 44lb Lake Trout
22 lb.8 oz. Burbot
The Lake Athapap area has a vast amount of fish species which invariably allows you to apply any of the techniques common to fishing.
Fly fishing – Streams and rivers for trout, but who is to say you can't land that large northern pike or pickerel on a still evening or calm day on the lake.
Bait Casting – can be practiced virtually on any body of water
Down rigging –lake fishing to capture the big ones
Jigging and Trolling – most commonly used
Spear and Bow fishing – Latest trend offering new challenges
Don't forget ice fishing!! Imagine bringing home a trophy through the ice!  Tonapah Lodge is situated right on the shoreline of Athapapuskow Lake.  Step out your door, hop on your ATV or skidoo and within minutes you are on your favorite fishing spot.
Tonapah Lodge can provide:
16ft. or larger Aluminum boats
Experienced local guides
Tackle and bait from our in-house store

In-house fishing derbies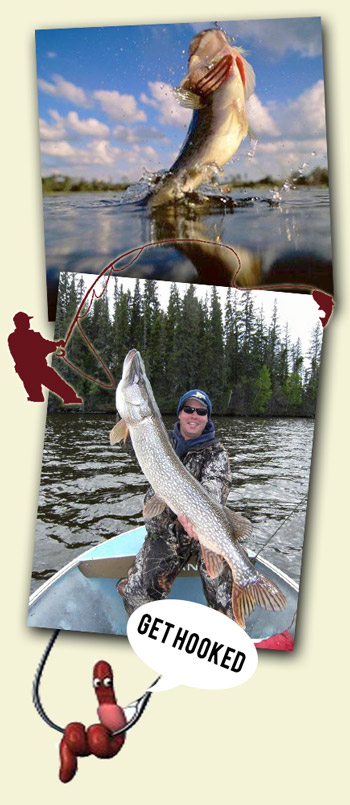 Please do not hesitate to e-mail or give us a call for rates and fishing packages that are available!