There is no doubt fishing at Athapapuskow Lake is fantastic!!
Thus far, this lake has held 3 World Records:
Lake Trout weighing in at 62lb.8oz (held for over 40 years)
6 lb. line class record with a 44lb Lake Trout
22 lb.8 oz. Burbot
The Lake Athapap area has a vast amount of fish species which
invariably allows you to apply any of the techniques common to fishing.
Fly fishing – Streams and rivers for trout, but who is to say you
can't land that large northern pike or pickerel on a still evening
or calm day on the lake.
Bait Casting – can be practiced virtually on any body of water
Down rigging –lake fishing to capture the big ones
Jigging and Trolling – most commonly used
Spear and Bow fishing – Latest trend offering new challenges
Don't forget ice fishing!! Imagine bringing home a trophy through the ice! Tonapah Lodge has converted campers into ice fishing chalets for your comfort. Have a soft seat, propane heat and a full kitchen to enjoy your winter fishing adventure. If fishing gets the best of you, there is even a place for a quick snooze or overnight stay. The chalets are placed on skids and can be moved at your request.
Tonapah Lodge can provide:
16ft. or larger Aluminum boats
Experienced local guides
Tackle and bait from our in-house store
Ice fishing chalet rentals
In-house fishing derbies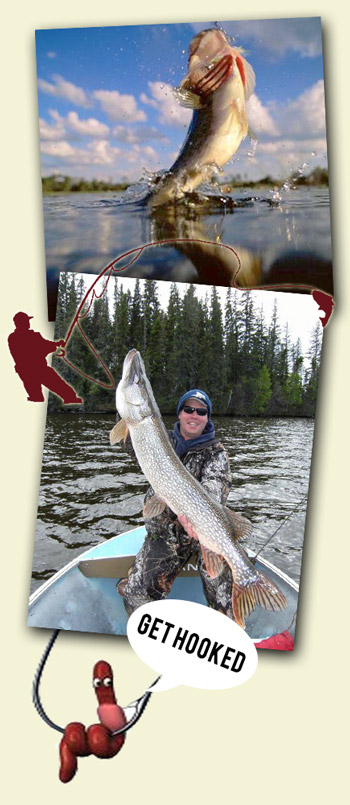 Please do not hesitate to e-mail or give us a call for rates and fishing packages that are available!